Innovations and sustainable cultivation in the fields of Bavaria
Our quality promise
High responsibility for all production processes
Harvest 50,000 tons of fresh herbs in 6 months and process them into 2,500 tons of dried herbs: During the harvest season from April to November, our production runs 24 hours a day, 7 days a week. We benefit from our patented and self-developed drying method and our powerful processing plants. As with our know-how as farmers who have recognised a healthy environment as the basis for top quality. We focus on sustainability and produce conventionally as well as controlled organically at the highest level.
Our recipe for success: We assume complete responsibility from seed selection to delivery in order to meet quality requirements and reliably maintain them through tight controls. This includes hourly sampling around the clock at the factory, as well as the analysis of samples from each batch in accredited laboratories. Our quality assurance team checks for sensory properties, bulk density and many other criteria. Only when all fits 100% may our herbs and superfoods continue to be stored.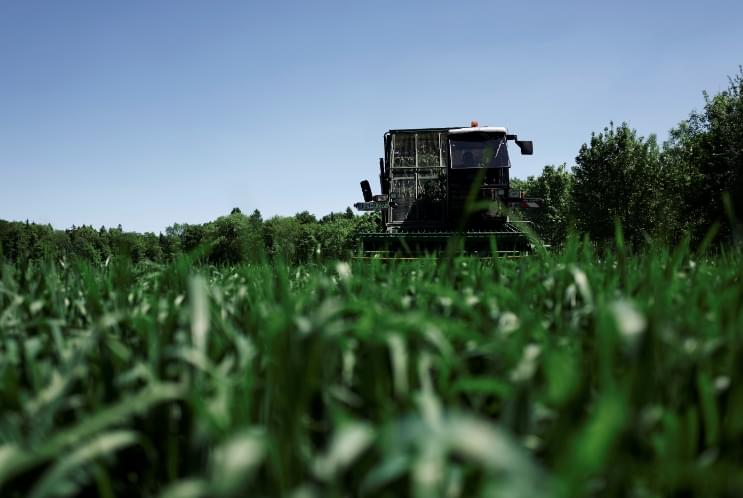 We leave nothing to chance – and offer the complete production chain from variety tests to delivery from a single source. An overview of our services for optimum results:
Selection of farmers
Annual variety trials with the Weihenstephan / Triesdorf University of Applied Sciences (HWT)
Seed selection by ESG to ensure a high-quality raw material
Determination of the optimum sowing time
Ongoing support and training of our 70 contract farmers by our three cultivation consultants
Determination of the optimal harvest time
Harvesting by personnel trained by us with company-owned machines
Product control before receiving goods
Cleaning of fresh products
Drying of the fresh product through a patented process developed by us
Quality test on dried semi-finished goods
Cleaning of dry goods
Refinement of the dried product according to customer specifications
Quality testing of the finished product by accredited laboratories
Packaging and warehousing
Delivery of goods
Leaf for leaf - for the highest quality
Gently dried: We process our kitchen herbs and superfoods according to high quality standards and control the entire process thoroughly. For the very best taste and 100% traceability!
Innovative and proven: self-developed processes for an all-round successful product
Some of them developed in-house to meet the specific requirements exactly: Our machines are ideally matched to each other, optimally coordinated and we benefit from the short distances between the field and further processing in the factory. Our production chain is perfected by in-house developments such as our patented drying system or the chive rolls harvester, which was partly developed by us. At the latest 60 minutes after the harvest, the herbs reach the belt dryers and pass through our self-developed cleaning drum. We work with three drying lines: fully automatic and gentle, for flavor protection, color stability and low germ counts.
Our philosophy? No stagnation – we continuously optimize our processes and innovations in order to further expand our valuable know-how and supply top products to customers worldwide.
Sustainable and careful in our interaction with the environment: leaf after leaf for best taste
Our devotion can be felt in every step – you can see and taste it. In order to deliver our proven quality, our cultivation consultants select the right genetically unmodified seed for each farmer. According to GAP and our own standards we control and document the cultivation; for aromatic, fresh and healthy herbs the harvest takes place at the optimal time. Together with our farmers, we attach the greatest importance to the careful treatment of nature – in the Danube Valley we have an ideal location for local culinary herbs. But we also sow flower strips along the fields to provide a suitable habitat for bees, insects and wild animals. In addition, we are constantly looking to make our production processes more environmentally friendly. Accordingly, we have obtained certification in accordance with the "Environmental Management ISO", ISO 14001. There is a link between sustainable agriculture and the resulting food quality – we have believed in this for generations.
Offer, Samples and Contact
Chives, dill, parsley and more: Order your sample now and experience kitchen herbs and superfoods made in Germany of the highest quality. We would be happy to give you individual information!